err... so what is this?

"overnight web design & development"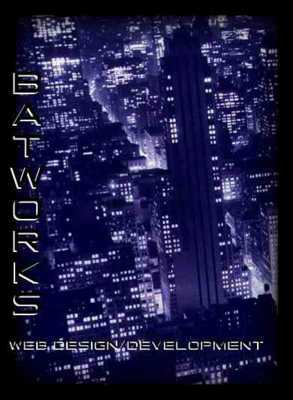 BatWorks™ Creative Group (also known as Parsonsnet.com), founded in January, 1998, is owned, and operated by me, James Parsons. I'm the "Owner & Proprietor" and, also, <!--web/hype fancy title--> Creative Director . Actually, I like to think <!--web/hype fancy job description--> web architect is a bit more correct for what I do than web designer or web developer. The term, webmaster (...aaargh!...) is something left over from the days of, "Welcome to my Home Page! - Please click on hyperlinks to navigate", etc.. Quaint and largely meaningless. To cut to the chase, what I do is design & assemble fine, tasty, useful, & energy efficient websites for small businesses, professionals, and organizations; coast to coast, border to border, and beyond. This can get a tad bit more involved than just being a webmaster for hire. In conjunction with these lofty purposes, this is both a business & a personal website. Obviously, I want to encourage (lure, seduce, attract) prospective clients, but it's also the place where I experiment with new code, techniques, design ideas, and also write about what I'm learning.
AIfIA
[25 theses] James Parsons is a charter member of AIFIA - the Asilomar Institute for Information Architecture.
For an in-depth, stirring, & thought provoking discussion of how we approach the business and objectives of Web design and how it could mean that little 1° of difference needed for your website plus the secret meaning of the universe, read [ "a bit about us' ].
 recent launchs, projects, & updates
  CIRCLETRIM.COM Formerly known as The Waterloo Wood Bearing Co., Wood Components & Technologies (WC&T) offers quality curved moldings, circular trim, and millwork for commercial contractors and home builders. Plus wood and plastic OEM parts and components for manufacturers of machinery equipment.
Precision manufacturing, CNC, CAD, and engineering services make WC&T a prime solution for manufacturers seeking a top job shop for fine quality wood trim and parts production.
 RISKMANAGEMENTINTL.COM "The meltdowns of Arthur Andersen, Enron, WorldCom and others clearly demonstrate the amount of damage that can be done to an organization once its reputation has been sullied. It is particularly significant because the more diverse and physically spread an organization is, the more it becomes immune to risk, and yet the more it becomes exposed to the possible consequences of damaging its reputation. Developing and implementing an organization- wide plan to combat reputational risk is an essential component of any overall operational plan. This is essential for any market strategy, in any market sector, with any product, service or venture partnership. A predesigned and implemented reputational risk strategy is especially necessary with activities that involve global product and service provisions, international emerging market strategies, the provision of cross-border financial and fiduciary services, entry into joint ventures or any business partnership that places organizational name and integrity in the hands of any foreign entity."
 Goldman-Nelson.com, The Goldman Nelson Group » Management & Training Consultants: A Management & Training Consultant with a special focus on Managerial Ethics, Henry Goldman, Ph.D, CPCM, is well known as a lecturer, author, and educator. His articles have been published in major business periodicals, including Journal of Management Consulting and Management Review and he is a frequent speaker at conferences and workshops on issues affecting contemporary management. A specialist in financial management and executive training on issues relating to budgeting, strategic planning, performance improvement, and Total Quality Management (TQM), other professional activities deal with Change Management Techniques, Strategic Quality Planning, ISO 9000, and Financial Issues in Business. Hank Goldman has been a course leader in the University of Phoenix's Certificate in Global Management program and an Associate Professor of Business Administration and Management at Touro University International (TUI), where he was the Editor of the Touro Global Business Notes. He frequently leads seminars for firms along the Pacific Rim, including The Peoples Republic of China, Singapore, Malaysia, Indonesia, The Philippines, and South Africa. His clients include Lucent Technology-China, Hughes Aircraft Company, and more. With the exception of a contact form, this site is all tableless valid XHTML 1.0 Transitional with presentation & layout controled by valid CSS.
 AIfIA: Asilomar Institute for Information Architecture Job Board: Coding & implementation of 1st phase forms for submission of positions & member sign-up. --"The AIfIA Job Board serves as a clearinghouse for position postings relating to information architecture and more broadly to information design, interaction design, and HCI."
 Parson Real Estate Co.: Parson Real Estate Co. (no relation) is the place to go for homes, acreages, & commercial real estate in the Charles City, IA & surrounding area. We initially designed the site for them back in 1999 and now we're doing a complete revision in XHTML 1.0 for structure, using CSS for presentation.
 Wapello Fabrications Co., Inc., (WAFABCO), located in Wapello, IA and headed by June Hardin, is the leading manufacturer of inflatable attractions favored by concession operators and seen at theme parks, FECs, shopping malls, pre-schools, fund raising events, tourist attractions, and, of course, carnivals all over the country, & the world. Wapello Fabrications Co., Inc., is known throughout the amusment industry for quality, service, and reliability.
 "Amusement Industry Links & Directory": We've rescued the amusement industry links formerly maintained by Tim Melago and then added a bunch of our own for one of the largest & most comprehensive directories & links list of amusement industry manufacturers, ride builders, suppliers, consultants, service providers, amusement & theme park sites, fan sites, etc., anywhere on the Web.
 Concessions Manufacturing Ltd. Co./"Ye Olde Kettle Cooker®": Now at kettlepopcorn.net, Concessions Manufacturing, located in Grove, OK, is the world's leading manufacturer of patented equipment for either permanent or transportable kettle corn concession operators. They produce "Old-fashioned," 1800's style German Kettle Popcorn & Kettle Corn cookers for the amusement industry and individual concessionaires. Concessions Manufacturing's patented equipment comes with options ranging from units for permanent locations and complete trailer mounted packages - ready to go. You can also order gift packs of "Ye Olde Kettle Cooker®" popcorn direct from the company.
 Iowa Society of Licensed Public Accountants: The "ISLPA" is the association for Licensed Accounting Practioners in the State of Iowa. The ISLPA provides information on licensing, careers, Continuing Education, Membership Directory, an overview of services generally provided by License Accounting Practitioners, & more.
 Owen Trailers, Inc.: The name "Owen Trailers", has been synonymous with quality and dependability for more than 50 years. Around the fair industry operators rely on Owen Trailers for their high quality back end equipment. This includes glass houses, fun houses and dark rides.
 KRM Consulting Group: Risk Management, Loss Control and Inspection services for industry including Amusement Parks and Ride Owners Fairs, Festivals & Exhibitions, the Hospitality Industry, Entertainment Industry, Insurance Companies, State & Local Government, Auditoriums & Arenas, Family Entertainment Centers, Construction & Manufacturing Industries, Attorneys.
 Site Design/Maintenance: Basic & advanced design, revision & maintenance solutions
All revision work as well as new content is produced consistent with web standards. The current recommendation is XHTML 1.0 Transitional (or Strict). CSS is used to control styles & layout/ Proprietary code (with it's associated liabilities) is avoided. Attention is paid to Section 508 compliance with focus on accessibility issues. In other words; "Yes, folks! We really do hardcode web pages!"
 Web Hosting Solutions: Zipweb.net - Scalable Linux based web hosting
Custom tailored web hosting for small businesses & professionals on our secure no-nonsense industrial grade Linux system combined with design/update options and, always, personal service.